BOARD MEMBERS
Mark Diamond | Co-President
Year: Fourth
Member Since: 2019
Major: Electrical Engineering
Bio: Origami is a passion that has been a part of Mark ever since he can remember. Like really, I actually don't remember what age I was lol. From the moment he first learned the art from his uncle, to a short-lived origami business in 6th grade, to an ever-increasing collection of models, Mark has lived and breathed origami. While he's not very good at writing bios, he is kinda funny so I guess that makes up for it. His passions in video editing and photoshopping are frequently put to use in the creation of epic memes to make his friends laugh. Other things he enjoys include Birding, personal protective equipment (PPE), and De Neve Commons Residential Restaurant.
Nyla Jafri | Co-President
Year: Third
Member Since: 2020
Major: Ecology Behavior and Evolution
Bio: Nyla has enjoyed folding origami since she was in elementary school, mainly to make homework more...enticing. When she is not pressed by deadlines, you may find her frolicing amongst her piles of mostly completed origami or dodging birds while practicing archery.
Don Leung | Vice President
Year: Fourth
Member Since: 2021
Major: Architecture
Bio: Don started origami before he could remember (he also forgot everything that happened before he was 8). He first started with a non-square sailboat, and has not done anything harder since he folded Ermakov's Mantis Shrimp at 15. He has since been trying to design his models. However, he failed box pleating designs miserably and is still confined to blintz frog base designs. Beyond boring people with badly-written bios, he can be found watching anime (One Piece), working on his architecture projects, and failing to book a badminton court at Wooden.
Joseph Liao | Secretary
Year:
Member Since:
Major:
Bio:
Vivek Chotai | Treasurer
Year: Second
Member Since: 2021
Major: MCDB
Bio: Vivek has always been a fan of origami, and started folding by giving out cranes in high school. He's probably one of the worst folders in the club. Vivek represents the beginner level and shows that all levels of experience are welcome. He joined BOFA to learn a new skill, and have fun in a club that wasn't just to fill his resume. He has stayed because of the community of kind, witty individuals he has been fortunate to befriend. Outside of school, Vivek enjoys eating taco bell and playing clash of clans.
Joyce Kuo | Instructor
Year: Fourth
Member Since: 2020
Major: Psychobiology
Bio: Joyce has been folding origami since high school and is very fascinated by origami applications to science. She really likes origami giraffes because they are her favorite animals, and she thinks the Alice Gray butterfly is pretty neat too.
Shruti Thakuria | Instructor
Year: Fourth
Member Since: 2021
Major: Neuroscience
Bio: Shruti first began folding origami in elementary school as a way to stay awake during class. She loves learning new designs and having conversations with people while folding together. When she's not working on assignments, you can find her playing Elden Ring, reading fiction, or discovering new music. She also hits the gym on occasion. :)
Pranav Daggubati | Instructor
Year:
Member Since:
Major::
Bio:
Elvia Mendez | Activities Coordinator
Year: Third
Member Since: 2020
Major: Global Studies
Bio: I never had super intensive experience with origami other than casually folding something in art when there was a sub. However, I was always impressed with the art and wanted to try it myself, but I never did until I learned of BOFA. I am so excited to continue learning more about origami and looking forward to showing people who were in the same spot as I was, teaching the students I tutor and the little kids in my family. :D
Andy Tseng | Community Outreach Coordinator
Year: Fourth
Member Since: 2019
Major: Psychobiology
Bio: Although he doesn't have much experience with origami, Andy Tseng has always had a fascination for the patience and skill it took to create complex figures out of flimsy paper. (Not to mention the figures look amazing!) Besides working on classes, clubs, or origami, Andy's hobbies include going out for boba runs, hiking, running, and hanging out with friends. Andy is also open to trying out new things and has such as rock climbing so feel free to give him suggestions!
Analeyla Herrera | Social Media Officer
Year:
Member Since:
Major:
Bio:
Lara Papasian | Photographer
Year: Second
Member Since: 2022
Major: Cognitive Science
Bio:
Ryan Lee | Webmaster
Year: Second
Member Since: 2021
Major: Electrical Engineering
Bio: Ryan has liked folding origami since discovering the art back in 4th grade through Youtube. Even with takeout receipts and his clothes, something of his always seems to be an attempt at creating something new. Outside of origami, he likes playing smash bros/mario kart/tetris, taking walks, and wasting time on Youtube.
PAST BOARD MEMBERS
Chris Tai | Co-President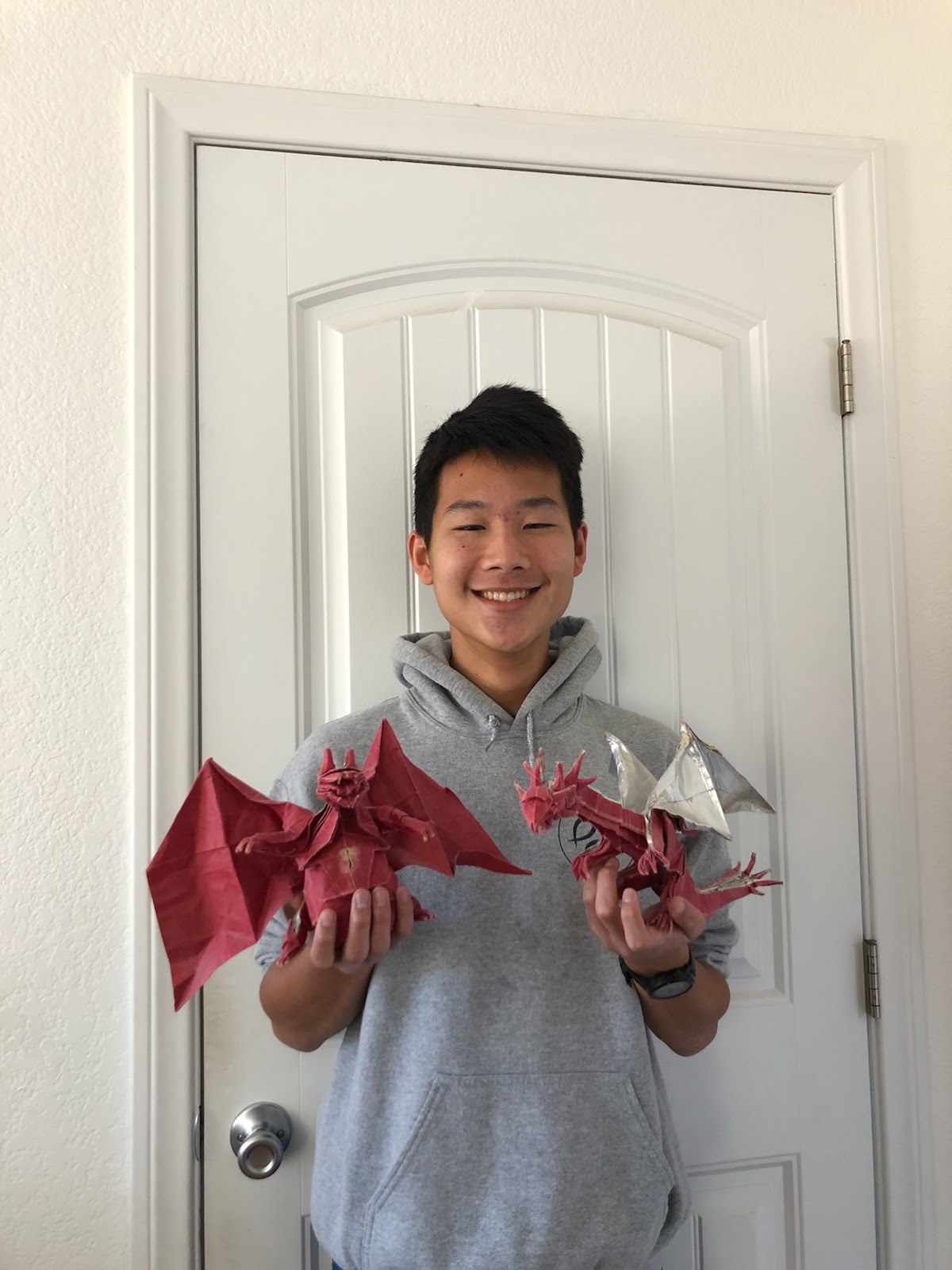 Member Since: 2019
Major: Microbiology, Immunology, and Molecular Genetics
Bio: Chris has been an avid origami folder since age 12, when he realized that homework can be repurposed (rightfully so) into paper airplanes. A San Diego native, he is a good friend of good weather, and really appreciates Mexican food. When Chris isn't folding origami, you can find him skating, running, hiking, playing board games, trying to figure out how to use Zoom, or hanging out with members of the Asian American Christian Fellowship at UCLA.
Benny Lau | Vice President
Member Since: 2019
Major: Biology
Bio: Benny has always done origami ever since he first got introduced to it by his close cousin when he was little. He has on and off done it since all throughout middle school and high school, especially during class when bored. Outside origami and academics, Benny especially enjoys staying active, such as playing sports like soccer or tennis. He deeply enjoys hiking and is now an avid rock climber. In his free time, you can also catch him at the piano attempting to practice 40 hours a day, skating, or spiking people in smash.
Nicholas Chin | Secretary
Member Since: 2020
Major: Physiological Science
Bio: Crane. Box. Ninja star. Fox. Long ago, Nick was a bright-eyed boy who loved folding origami. Then, everything changed when video games attacked. Only productivity, master of all disciplines, could stop them. But when Nick needed it most, it vanished. 19 years passed and UCLA introduced a new source of origami inspiration, a folding club called BOFA, and although its lessons are great, it has a lot to grow before it can inspire anyone. But I believe BOFA can inspire the world. Nick is also a massive dweeb and weeb.
Ezra Chen | Instructor
Member Since: 2019
Major:: English and Philosophy
Bio: Normal children stay up deep into the night, playing games or watching videos on the Internet, but when he himself was a child, Ezra spent his nights… playing games and watching videos on the Internet. Though sometimes, in high school, he would stay up whittling away at some origami project or other. Now, he stays up late into the night playing video games or procrastinating on yet another paper. Origami is for the day time… during class. Else, one might find him playing video games or working on some other art project or doing philosophy with an unfortunate friend or attempting and failing to come up with the next C.S. Lewis masterpiece.
Karen Cavicchio | Instructor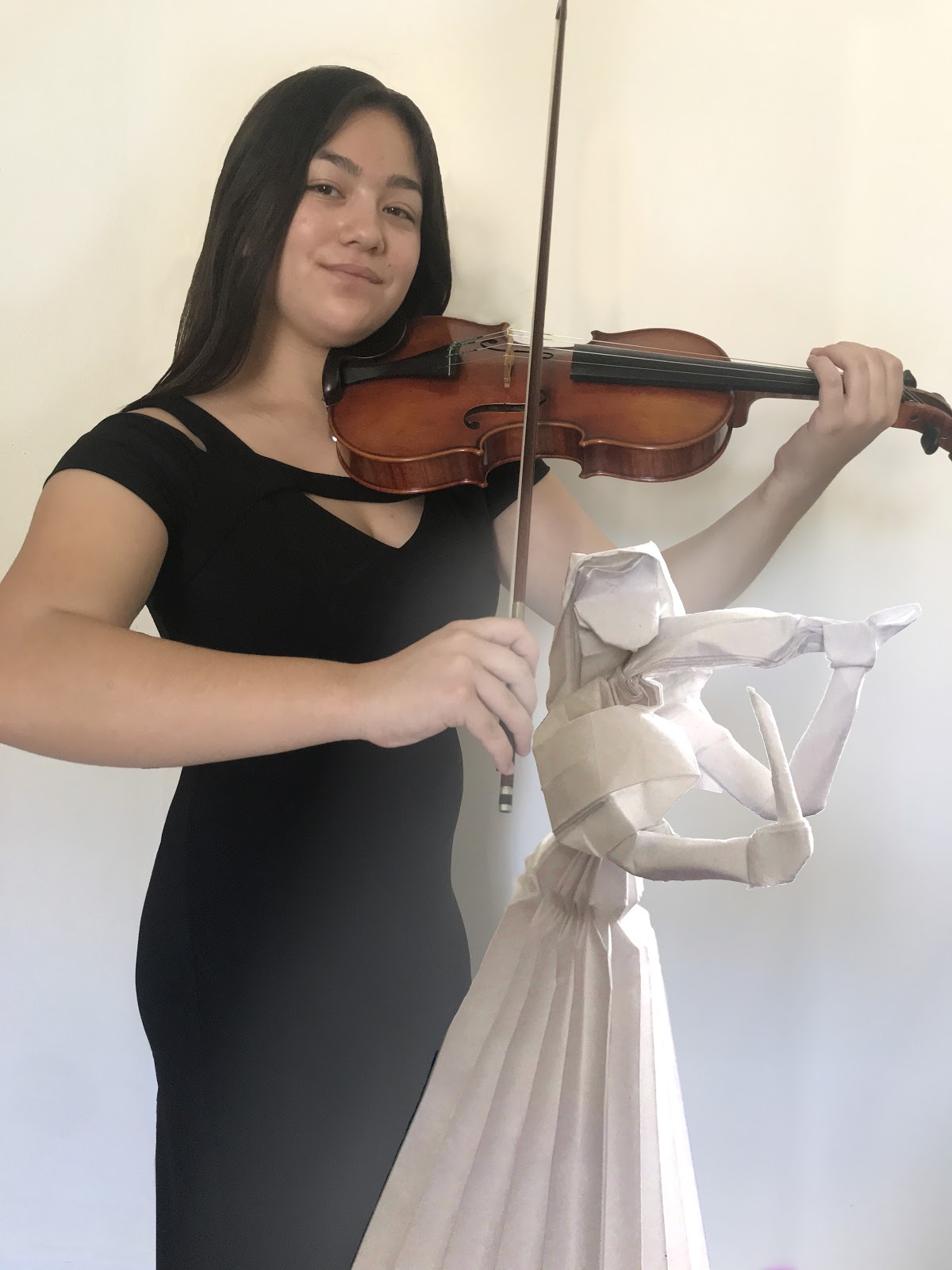 Member Since: 2020
Major: Computer Science and Engineering
Bio: Karen has been folding origami as a solitary pastime since elementary school and is now extremely excited to get to share the activity with other enthusiasts and teach anyone who wants to learn. She has always loved the geometric nature of folding paper and can often be found folding it under the table in class. Karen also enjoys avoiding schoolwork by playing the violin in musicals and orchestras and spending time on the archery range.
Felix Lam | Instructor
Member Since: 2020
Major:: Architecture
Bio: Felix started folding at the ripe young age of 6 years old. Since then he's been dropping cranes left and right. His favorite is the Pegasus though. Now he begins his exploration of tessellation. More on this in the future. Aside from origami you can find him practicing his sleight of hand and his smash bro's techniques. When he's not bunkered down you can find him at the golf range or at the snow slopes eating it badly.
Stephanie Lo | Graphic Designer
Member Since: 2020
Major: Psychology
Bio: When her grandma first taught her how to fold an origami crane, Stephanie fell in love with the art. As she continued to expand her origami repertoire, she realized that giving it as a gift was much better than keeping it for herself. Today, Steph continues to fold origami gifts for friends, family, and peers. In her free time, she enjoys folding origami (OBVIOUSLY), chewing a TON of gum, hanging with friends (now with 100% more Zoom), going roofing, and binging Youtube for 5 hours.
Jasper Sun | Photographer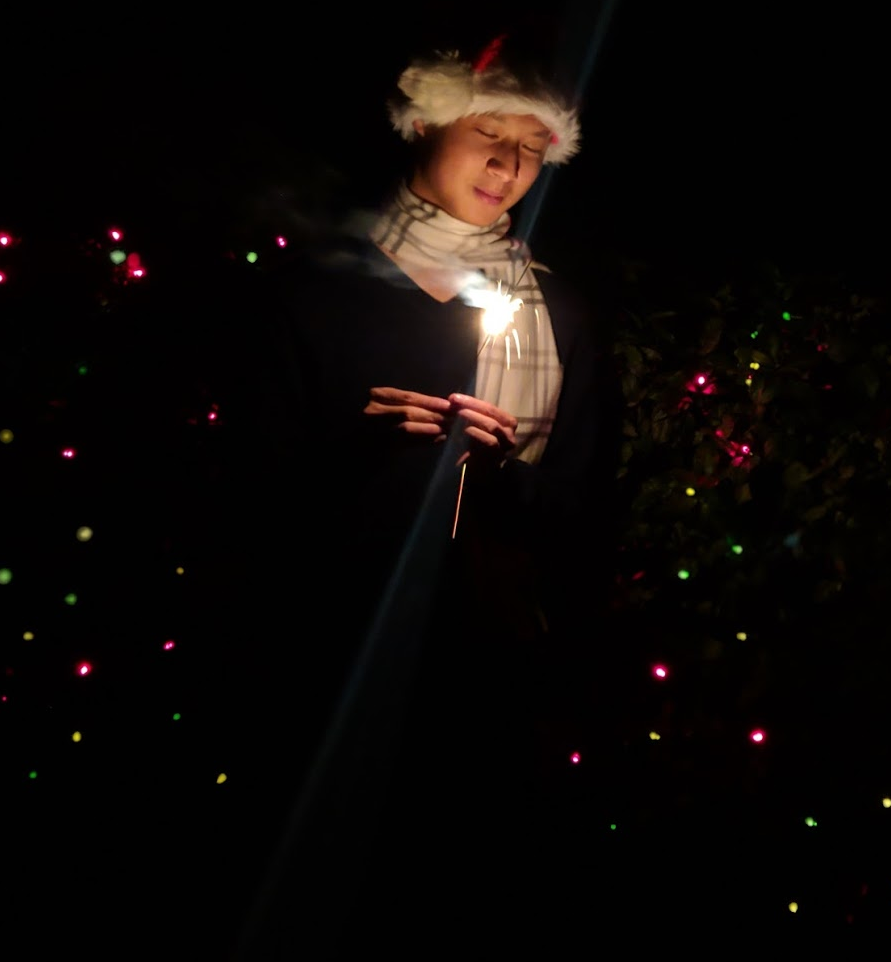 Member Since: 2019
Major: Mechanical Engineering
Bio: Jasper has always liked using origami to add a more personal touch when gift-giving. He enjoys running, cooking, playing badminton, taking photos, listening to music, and flying RC helicopters. You can also find him lurking on Summoner's Rift.
Sally Seok | Webmaster
Member Since: 2020
Major: Computer Science
Bio: Sally was primarily introduced to the world of origami in her high school Chinese class and now hopes to master the craft one day. She enjoys watching Korean dramas, travelling, and spending time with friends and family in her free time.